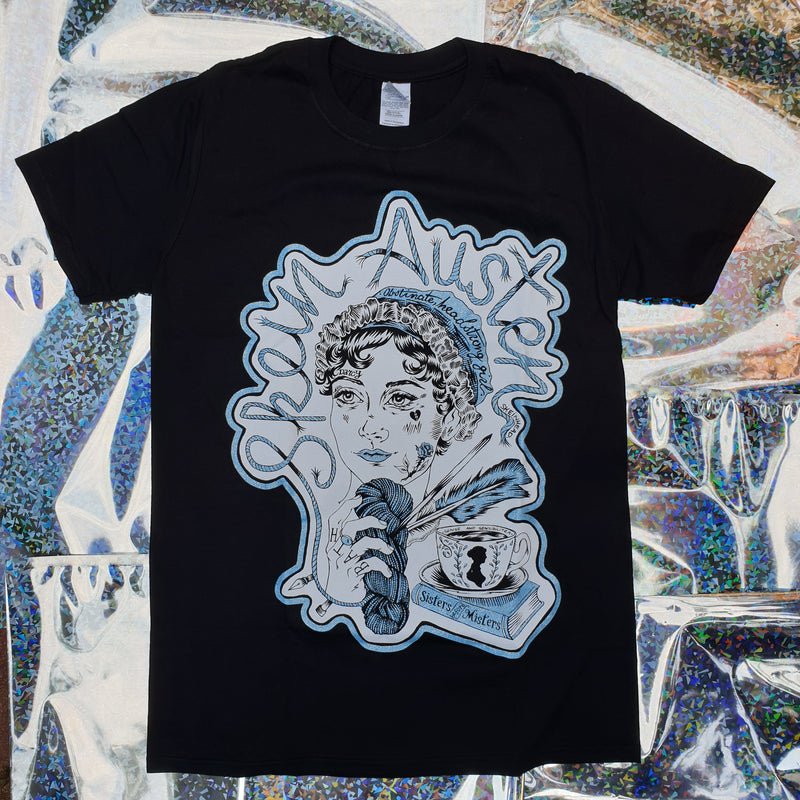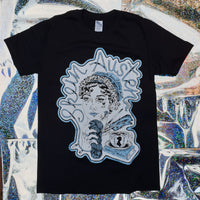 Skein Austen Gold Glitter Black Shirt
Its a truth universally acknowledged that a knitter must be in want of a Skein Austen shirt, and now it's back in black with gold glitter! Us lot at Skeinhead love Jane Austen, she's a massive icon of ours; Jane has been giving societal expectations & pressures put on women the middle finger for the last 2 centuries in her classic witty way, and we adore her for it!
This is our take on what Jane would be like today, with loads of little nods to her: tattoos saying Darcy and Bath, she's wearing her signature ring and a cap saying the recognisable phrase 'Obstinate, Headstrong Girl!' and her favourite book Sisters Before Misters; its time we all take a leaf out of Jane's book!
Whats even better is that with every shirt & tote sold, profits will be going to the Jane Austen House Museum, a charity that keeps the magic of Austen alive for future generations & Janeites alike. The Jane Austen House Museum is the only place where Jane lived and wrote that is open to the public, and as somewhere so important & precious to us at Skeinhead, we would love to raise some money to further maintain the property and keep up the museum's amazing work collecting & restoring Austen artefacts.
With a 3 colour screen-printed full front print in a quintessential Regency blue and white with gold glitter on top of the blue ink, the brand new Skeinhead Jane Austen inspired shirts are printed on black Gildan soft style shirts. These shirts are unisex so available to everyone in a variety of sizes.
Please note, if you already have the white Skein Austen shirt, the blue ink on this shirt is lighter and not as vibrant as on the white, due to the gold glitter overlay.
Size chart:
Small: Width: 44cm | Length: 67cm
Medium: Width: 47cm | Length: 71cm
Large: Width: 53cm | Length: 74cm
Extra Large: Width: 56cm | Length: 76cm
2XL: Width: 63cm | Length: 78cm
3XL: Width: 69cm | Length: 82cm
4XL: Width: 74cm | Length: 84 cm
5XL: Width: 79cm | Length: 87cm
**COVID-19 SHIPPING UPDATE INFORMATION
At Skeinhead, we are still shipping both to the UK & internationally, but please expect delays up to 6 weeks due to the coronavirus pandemic.

We have decided that everything sent within the UK will be sent Tracked 48 & internationally, a Royal Mail tracked service will be used. This is therefore reflected in the delivery costs for each item, but this is so we can monitor where your order is on its journey for your peace of mind.

We are regularly checking the status of delivery and delays with the Royal Mail advice and updates, but your patience is definitely appreciated. Please bear these delays in mind when purchasing, thank you!**
Skein Austen design by India Mercury, 2020.
Thank you for visiting our shop Skeinhead. Please get in touch if you have any questions - we would love to hear from you!
Please follow us on our social medias (Instagram & Facebook: @skeinhead, and Twitter: @skeinheadknits), thank you!