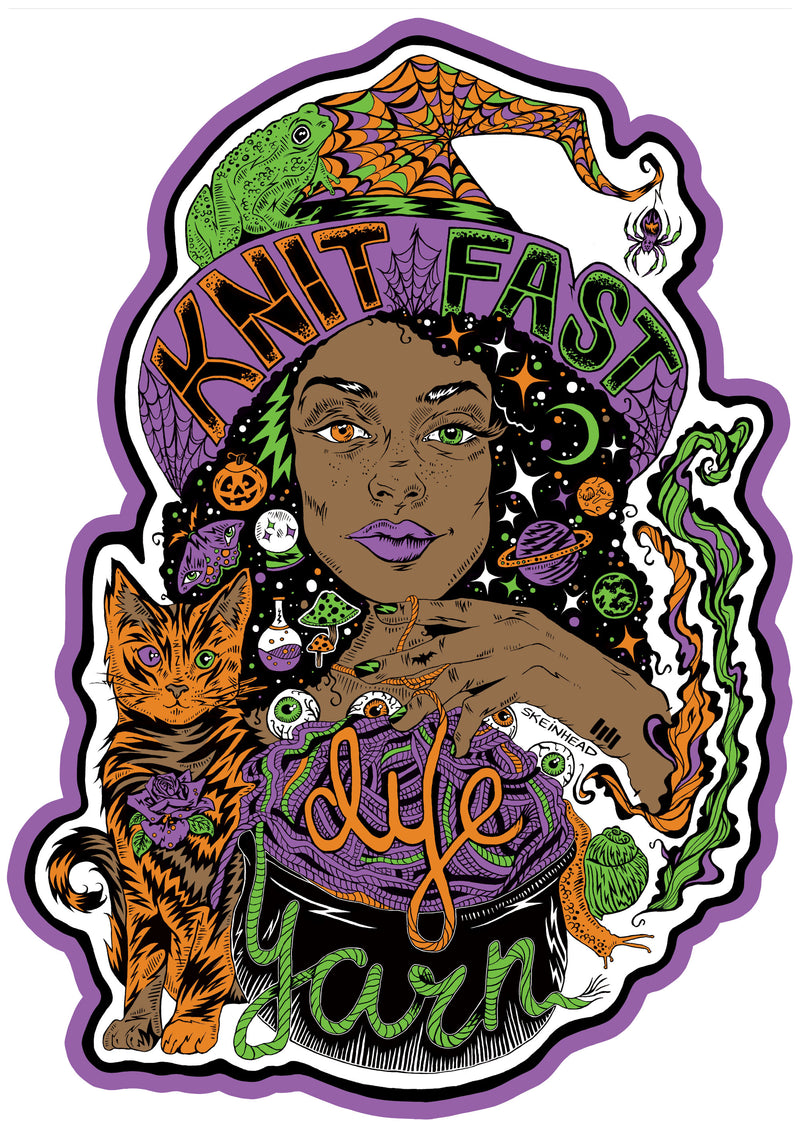 Knit Fast, Dye Yarn T-Shirt
Our Knit Fast, Dye Yarn shirt with the magnificent new member of the Skeinhead girl gang, Marianne! Named after Poly Styrene from X-Ray Spex, this design is the most important we've done to date. For all you knitters, crocheters, indie yarn dyers out there who love Halloween, this one is for you!
Can you spot all the little nods to our favourite bands and knitting jargon? With Thin Lizzy's black rose on Marianne's cat, to the frog who helps you when your ripping back your work, to your friendly snail pal to tip off that slow fashion is the way, this is our most detailed design to date!

With a mammoth 6 colour print, this will also have a silver glitter overlay on the purple sections so this one is not to be missed out on, and goes from small to 5XL. They will be screenprinted on Gildan softstyle black shirts, like all Skeinhead merch, which are 100% cotton.
As with all Skeinhead merch drops, we raise money for a specific charity, and with the Knit Fast, Dye Yarn shirts, we are raising for Black Minds Matter UK. The charity helps connect Black individuals with free mental health care by professional Black therapists, especially in regards to Black trauma, so we would love to raise as much as we possibly can, so your orders are vital. Thank you!
Size chart:
Small: Width: 44cm | Length: 67cm
Medium: Width: 47cm | Length: 71cm
Large: Width: 53cm | Length: 74cm
Extra Large: Width: 56cm | Length: 76cm
2XL: Width: 63cm | Length: 78cm
3XL: Width: 69cm | Length: 82cm
4XL: Width: 74cm | Length: 84 cm
5XL: Width: 79cm | Length: 87cm
**COVID-19 SHIPPING UPDATE INFORMATION
At Skeinhead, we are still shipping both to the UK & internationally, but please expect delays up to 6 weeks due to the coronavirus pandemic.

We have decided that everything sent within the UK will be sent Tracked 48 & internationally, a Royal Mail tracked service will be used. This is therefore reflected in the delivery costs for each item, but this is so we can monitor where your order is on its journey for your peace of mind.

We are regularly checking the status of delivery and delays with the Royal Mail advice and updates, but your patience is definitely appreciated. Please bear these delays in mind when purchasing, thank you!**
Knit Fast, Dye Yarn design by India Mercury, 2020.
Thank you for visiting our shop Skeinhead. Please get in touch if you have any questions - we would love to hear from you!
Please follow us on our social medias (Instagram & Facebook: @skeinhead, and Twitter: @skeinheadknits), thank you!