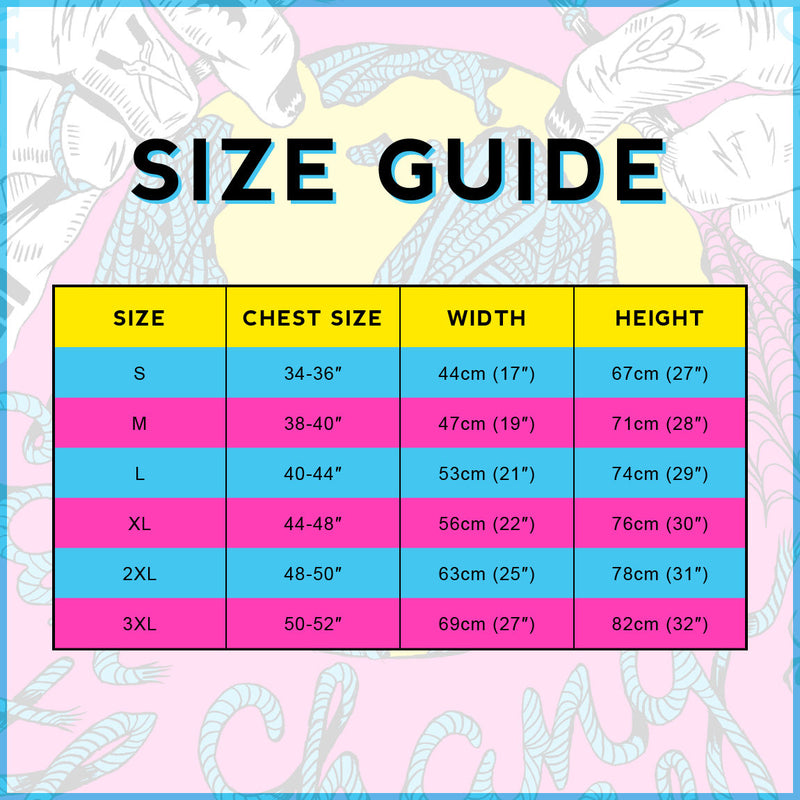 Knit And Purl Can Change The World Skeinhead T-Shirt
If you're a crafter, you know how much it can improve your mental health and wellbeing. Therefore, we introduce the reason we started Skeinhead in the first place - Knit and Purl Can Change The World shirts!
With a 4 colour screen-printed full front print in neon colours of our classic design on black Gildan soft style shirts, these shirts are unisex so available to everyone in a variety of sizes.
The Knit And Purl Can Change The World shirt is a homage to X-Ray Spex's The World Turned Dayglo single cover from 1978, and the majority of the proceeds from the sale of this shirt will be going to OCD UK, a charity very personal and important to us lot at Skeinhead.
Size chart: Small: Width: 44cm | Length: 67cm
Medium: Width: 47cm | Length: 71cm
Large: Width: 53cm | Length: 74cm
Extra Large: Width: 56cm | Length: 76cm
2XL: Width: 63cm | Length: 78cm
3XL: Width: 69cm | Length: 82cm
**COVID-19 SHIPPING UPDATE INFORMATION
At Skeinhead, we are still shipping both to the UK & internationally, but please expect delays up to 6 weeks due to the coronavirus pandemic.

We have decided that everything sent within the UK will be sent Tracked 48 & internationally, a Royal Mail tracked service will be used. This is therefore reflected in the delivery costs for each item, but this is so we can monitor where your order is on its journey for your peace of mind.

We are regularly checking the status of delivery and delays with the Royal Mail advice and updates, but your patience is definitely appreciated. Please bear these delays in mind when purchasing, thank you!**
Knit and Purl World design by India Mercury, 2019.
Thank you for visiting our shop Skeinhead. Please get in touch if you have any questions - we would love to hear from you!
Please follow us on our social medias (Instagram & Facebook: @skeinhead, and Twitter: @skeinheadknits), thank you!